The Great Debate
To Foil or not To Foil, The question still rages on!

OK, I admit when I first started to do the Q, I foiled and boiled. It was fast and easy and I always got tender meat. After a few years I started to develop my palate for taste and TEXTURE. Going to rib cook offs, and talking with many, many pit masters, I have learned that I was making a BIG mistake. A mistake both in taste but also in texture. What I was making was steamed away flavor and mushy meat. So lets do an experiment use foil on one set of rib and no foil on another. So lets lay the ground work. My wife, aka Little Chef, is a French trained Chef and works for one the worlds largest resorts. We invite 5 Chefs over for a "tasting" and drinks. I will be cooking St Louis Style Ribs on the Egg @ 220 until the internal is 190. For the foil technique, I will be using a BGE favorite called 3-1-1. Which in it's basic form means, 3 hours indirect, then foiled for 1 hour, then unfoiled for the last 1 hour to firm up the meat. The other technique is lo-n-slo with no foil. There is another technique that is widely used for country style ribs, which is boiled in lemon water for 45 minutes then on direct heat slathered in bbq sauce. We will not be subjecting our distinguished chefs with this disgusting technique today. It is ok for catering but not for close friends. Ok lets get started:



I started with a yellow mustard slather. This helps the rub slick and also helps in forming that all important bark. Here are the 3 racks that we will cook today. The top rack will have Bone Sucking Sauce Rub. The middle rack will have just granulated garlic and onion salt. The bottom rack will have Bad Byrons Butt Rub. All have been wrapped in plastic and set aside. You can also put these back in the frig for up to 36 hours. Ribs go on at 0900 hrs. Pit = 230 Rib temp = 85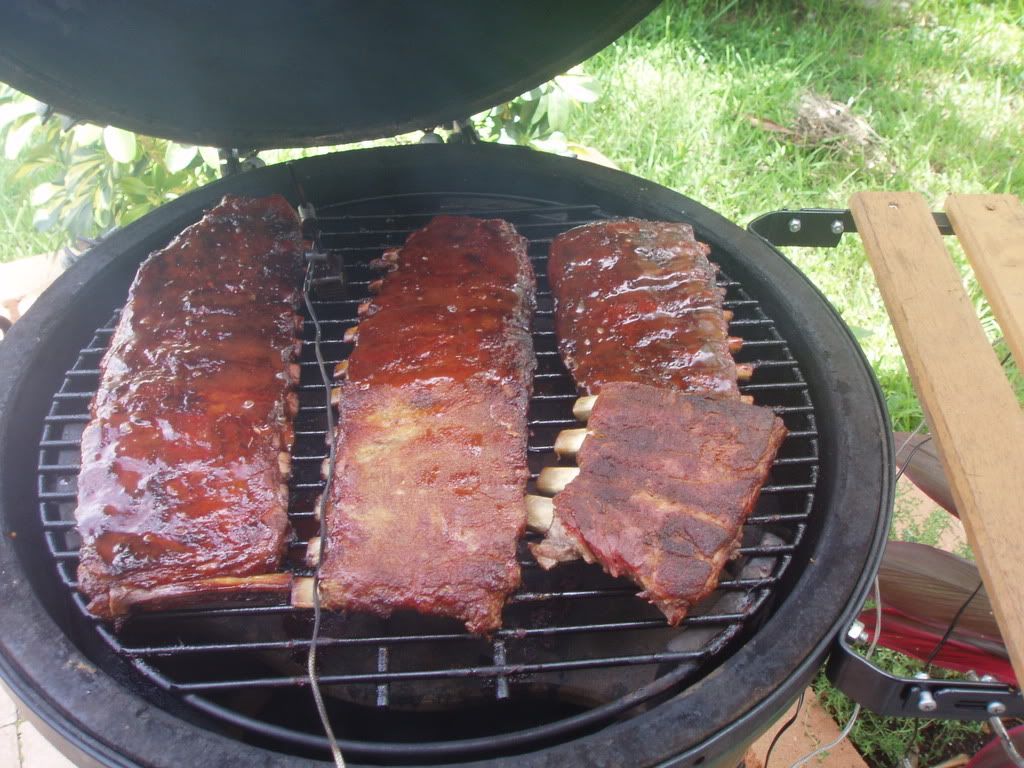 Left to right: Bone Sucking/Onion,Garlic/Bad Byron's At the 3 hours mark I took the Bad Byron's rack and cut it in two, wrapping one side in foil with a few spritz of cranapple juice. Both halves went back on for another hour. The picture above is after the one hour mark. Notice the 1/2 rack closest? Look at the pull back from the bones. This was the foiled 1/2 rack. At this point 1405 hrs I mopped on some finishing sauce for the ribs that I will be doing Kansas City Style and left some ribs for the "dry" Memphis Style. Below are side by side comparisons of foil vs no foil.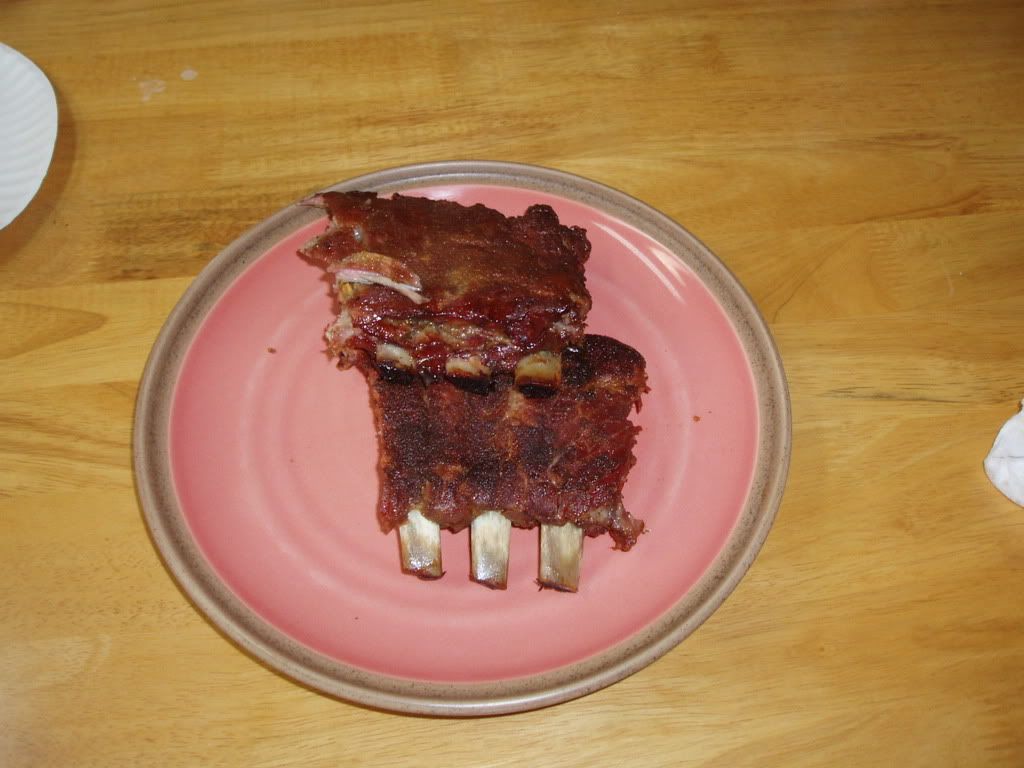 The ribs on the bottom are the foiled ribs. Most of the moisture has been "boiled away" as evidenced by the exposed rib bones. On the taste test the meat fell off the bone but the meat was mushy and the flavors were good but didn't have "body" as one chef stated. The non foiled ribs were significantly different. The meat pulled from the bone and was tender. The flavors in the meat were more complex. You could taste the smoke and the rubs. As one chef said, "no comparsion, non foil wins hands down". Try this for yourself on your egg in your enviroment. I can promise you this, you will find the non foil better, not faster.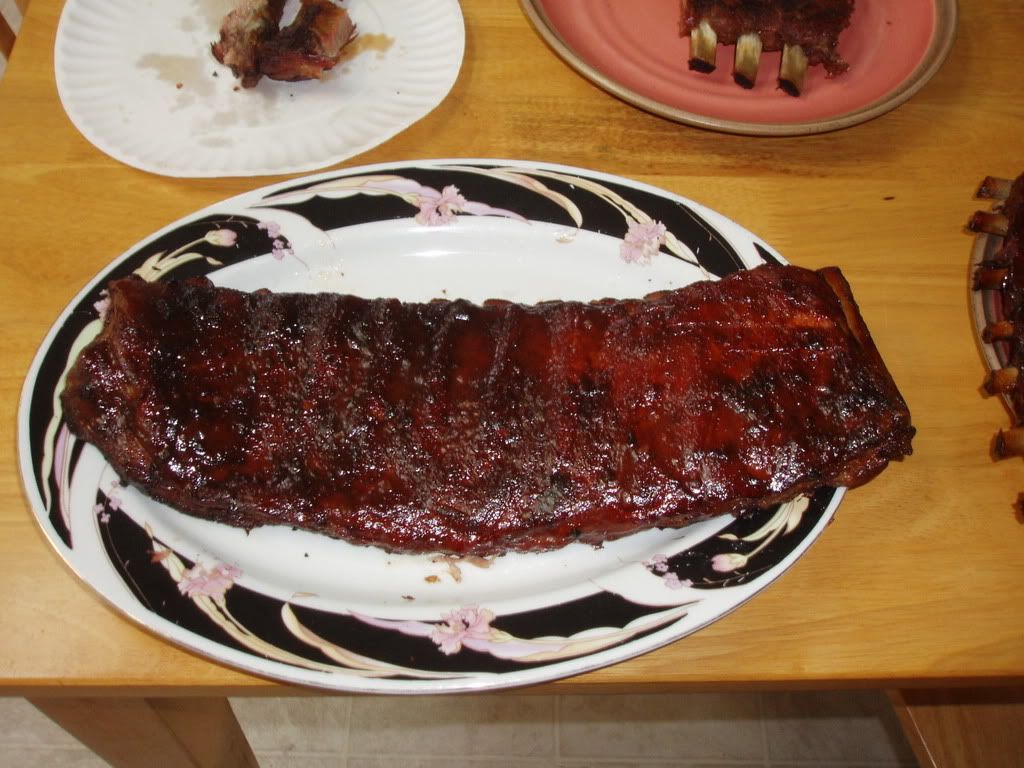 Now dems is ribs. "need no teef to eat my beef"C-Boy Parks 1943


Wow what a project! It is time for a drink (or two). The doc says I should limit myself to two drinks a day. I told the doc that I would try. For the most part I am proud to say I have stuck to it. See. What he didn't say was how big they could be
.