From time to time, LC and I review sauces, rubs, and other products. Some of these products are sent to us and others, after we have bought them. We don't receive any compensation for any of our reviews.





Select Outdoor Kitchens
"The Wing"



Mike from Select Outdoor Kitchens has been a sponsor of the Sunshine State Eggfest for as long as I can remember. Select Outdoor Kitchens manufacture many quality outdoor products for the backyard cooking enthusiast. Please visit
http://www.selectoutdoorkitchens.com/
for their complete line of great products.
Mike sent me one of their newest products for the Big Green Egg called "The Wing". The Wing is a replacement for the "Eggmates and Shelves" that are accessories for the BGE. They will not peel, rust, or discolor after many years of use. For those Eggheads out there that have the Eggmates, we all know we will have to refinish the wood after about a year. I don't know about you, but I have enough "Honey Do's" and projects to keep me busy for a few years, and I am lazy... lol. The Wings came a few days before the 2013 Sunshine State Eggfest and I did not have time to install them at Casa deBubba before LC and I left. I packed my handy Dewalt drill and a few tools that I knew I would need at the fest and we hit the road.
The installation can't get any easier. All you need is a Philips head screw driver attachment for your drill and a 7/16 box wrench. I took off the 2 nuts that hold the metal frames on the band for each of the Eggmates with the 7/16 box wrench and place the mates on my tailgate of the the truck. Next I used the Dewalt to remove all the wooden slats from the original Eggmate frames. I then laid the Wings upside down and noticed the four starter holes that lined up perfectly with the original Eggmate frames.
I then took the four screws (included) and attached the frame to the Wing and in about 30 seconds and was done. Wow, that was easy! 30 seconds later, the other one was done. It took another few minutes to re-install the frames with Wings to the band and it was time for the Lime Green Bubba Keg with my favorite beverage...
The Wings look droopy in this pic but it was just the angle of the camera. They are very level.
Here is a comparison of the Wing and an Eggmates to give you an idea of the size difference. The Wing really gives you more area to work on.
The wings are sold by Select Outdoor Kitchen dealers across the US. I can say I really like the Wings and I give these the Bubba Tim Thumbs up!
High-Que
High Heat Replacment Gasket
for a Big Green Egg Video
http://www.youtube.com/watch?v=xgjWdCHXLJc
FEEDBACK AND INSTALL TIPS FROM
high-que.com
"We appreciate your support and love your video post. It is worth pointing
out that many customers will not have much problem installing the
gasket without first disassembling the lid from the base (but as you
noted, thoroughness is always a plus). Of course that is as long as
they are able to put some elbow grease (and acetone) into scrubbing
the old gasket and residue off. We recommend
acetone
for the cleaning
because it will remove more grease and adhesive residue than alcohol
will.
We have run some shrinkage tests in house and found that most clothes
dryers will not get hot enough to do an adequate job (and there is
some risk of damaging the adhesive this way. So what we normally
recommend is to _compress_ the gasket as you work it around the grill
- bunching it up on itself about 5-8% so that when shrinkage occurs,
the gasket does not become visibly shorter. In order to combat the
tendency to creep towards the inside of the grill, we run it at least
a 1/16" from the inside of the grill so that it creeps up to the edge
and not so far inside.
One last thing to note is that our web address requires the - (dash),
so we call it high"dash"que when saying it out loud.
Anyways, we love your work! and appreciate the recommendation."
Who says you can't teach an old bubba new tricks.....bt
For more information visit
high-que.com
11/27/2011
Southern Specialties
Outdoor Living Products
Stainless Steel Egg Table
Product Review
May 28, 2011
I must admit that I am not a fan of wood tables for the Big Green Egg. It's not because they look bad, but here in Florida, wood is not a good media for outdoor use. Clay Q, in my book, makes works of art when it comes to egg tables. But to expose one of his masterpieces to the harsh elements of Florida would be a crime. There are many manufacturers that make tables for the Big Green Egg. Some can withstand the elements, look great, and are topped with granite. Many are made with marine polymer plastic for the cabinets, made in a various colors and with many configurations and set ups. The downside is they can be costly, and the granite can chip or even crack if handled improperly. Everyone has different needs and wants when it comes to tables for their egg(s). For Michelle (Little Chef/LC) and me, we are a bit more demanding. As many of you know, LC is an expert when it comes to food safety and handling. She is an instructor and proctor for Food Safe Certification and is a consultant to many restaurants and resorts worldwide. Therefore, a surface that can be sanitized is a very high priority.
Our needs are pretty straight forward. They are:
1. It must be durable and withstand the harsh elements of Florida
2. The surfaced must be able to be sanitized easily
3. Reasonably priced
4. Mobile so it can be moved with ease
5. Look great
At this year's Sunshine State Eggfest, I met Alex from Southern Specialties, Outdoor Living Products. They make a large egg table built with Stainless steel and/or powdered coated steel cabinets. Southern Specialties also makes a table which they have named a Mini table, but is built to accommodate your XL or Large. It is designed to hold your egg, but does not have any surface for food prep as it sits. They do offer an extension shelf as an accessory. It would be a great product to add to your already existing outdoor kitchen, but not as a stand-alone IMHO. Whether you select entirely stainless, or powder coated, all tables have Stainless Steel surfaces for food prep, and are very durable.
The dimension of the base table is 53 inches long by 31 inches deep, and 35
inches high (including the large casters). Ours came with the optional cutting board extension shelf adding another 18 inches, to give our table a whopping 70 inches of surface top!



There is a massive drawer, located under where the egg sits, which is 24 inches square and 10 inches deep. To the right of the drawer is a door that measures 18 inches wide, and opens to a storage unit that is 27 ½ inches deep. This cabinet is divided inside, and allows storage for our plate setter, pizza stone, spider, and our wok with plenty of space left over.







Advertised features:
Reversible
Vertical Storage for accessories
Space for hanging utensils
Easy-lift straps for egg installation
Constructed of High Quality 304 Stainess Steel
31" Lenght x 53" Wide x 35" Height
Heavy Duty Caster
Easy Close Drawer


When LC and I bought this table through our egg dealer, Dan, it did not come with any instructions or tips. (We were at the Sunshine State Eggfest, and this was the display model) We easily loaded the table in our cargo trailer after removing the extension shelf. The shelf is held on by 2 SS bolts. We got the table home and quickly learned it would not fit through the back door of the garage. The table was too wide, so we pushed/pulled the table through the grass to the deck gate. I am glad the table comes with large casters!
When we were moving the table, I noticed there was the loud banging noise. The two internal walls (left and right side) where the egg is held are not attached to the egg shelf. Since the internal walls do not provide any structural support, there really is no need to be attached, however, I would have liked if it was. The table is solidly built and weighs over 200 lbs., but the noise makes it sound cheaply built, which it is not.
We got the table positioned where we liked, and attached the extension shelf.
My first thought was "Wow, this thing I huge!". The next stage was placing the egg into the table. Southern Specialties gives you an easy lift strap to install the egg, but it takes two strong people to do this. Now that we had the nice new table, it did not appeal to me to put a 'well used' large egg inside. I decided to remove the dome and replace the gasket, and replace the broken fire box (it had been broken for number of years, but hey, it still worked!). I gave it a good cleaning, oiled the hinges, and tighten/adjusted the hinges and bolts. Now that the egg was all apart, installing the egg in the table was easy. The first mistake I made was not installing a paver on the egg shelf. This will cause the hinge to slightly rub the SS surface.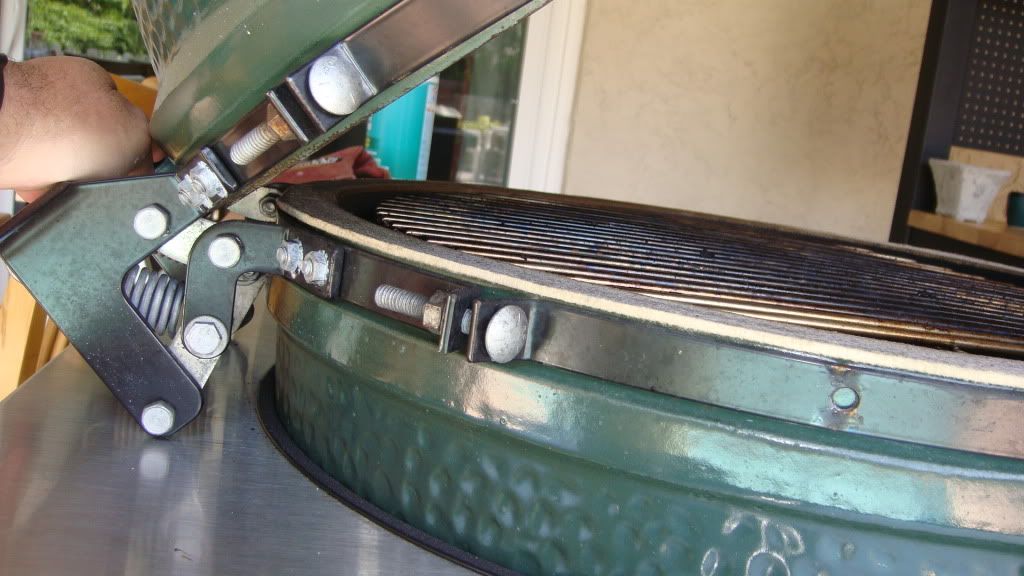 LC and I experimented using just the green feet, an old pizza stone, and a paver with green feet. We decided on the later.

While the large egg is in a nest, it will stand 35 inches to the top of the base. The way we set up the egg in the table was 5 inches higher. I first thought it would be too high, but as it turns out, the height is perfect!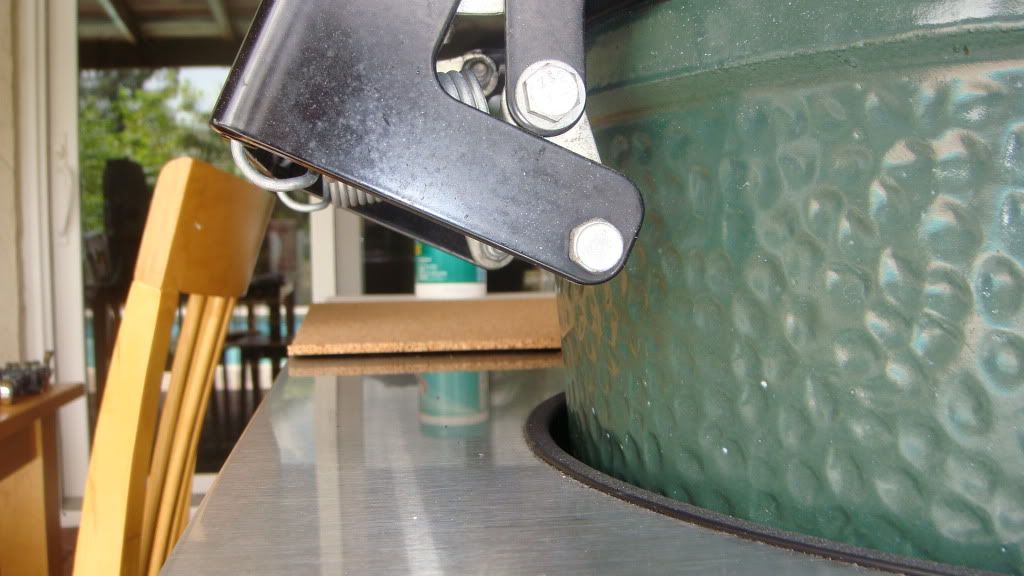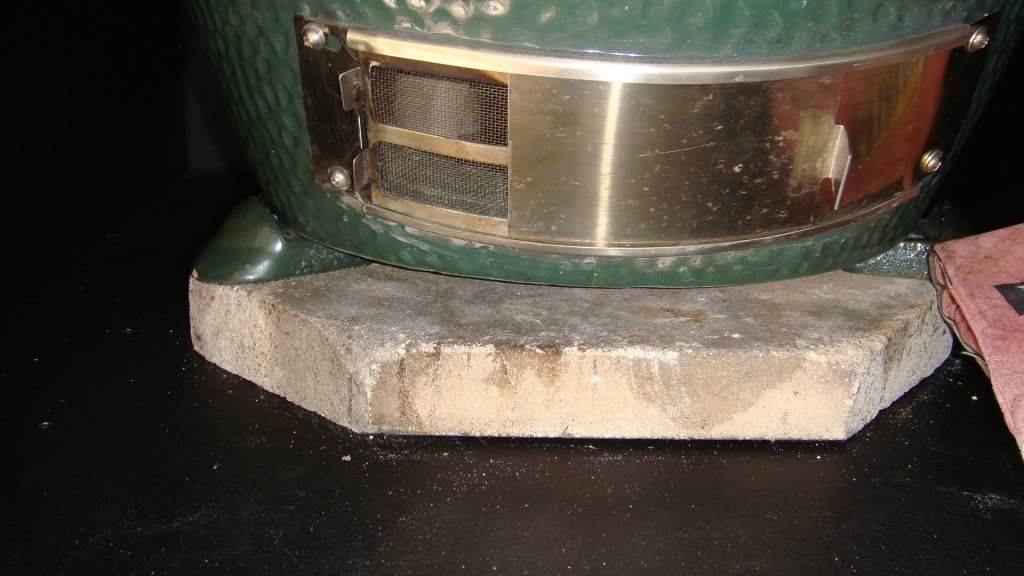 Being that I am the kind of Bubba that likes things square, level and straight, the one thing I do not care for is the caster set up. They are not adjustable.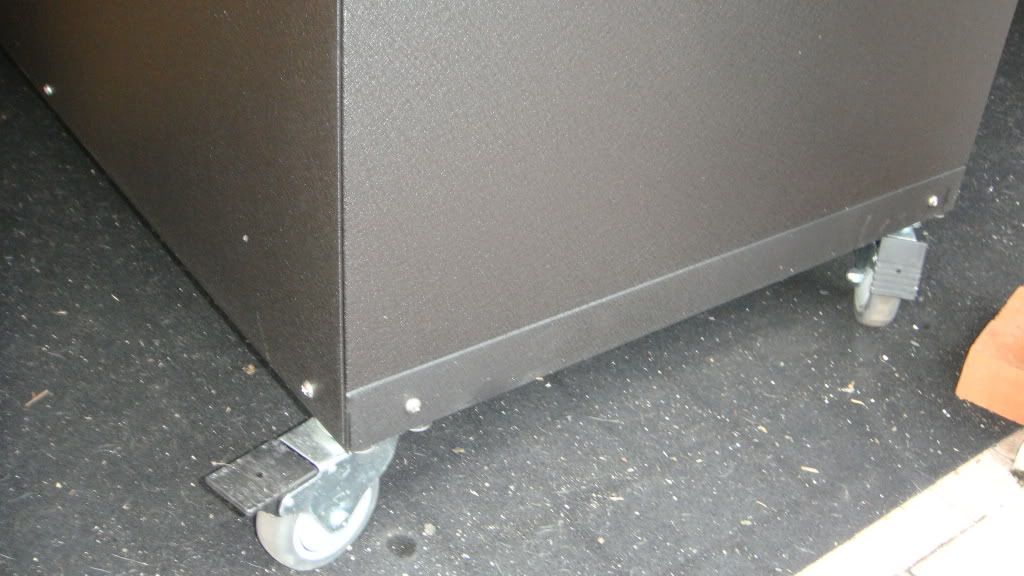 Since the table is on our pool deck made from pavers, there is no way to adjust them and make the egg table level. Not a big issue but, if We were to add another table and use one of their 90 or 60 degree connectors to join the other table, it would not be pretty. Another minor issue is the extension shelf. First, our shelf was the cutting board extension. It is made from marine polymer. It looks great when new, but it will soon get cuts and stains. Also, you can't remove it easily to wash it. I would rather have the shelf that has the SS surface and use one of our many cuttings boards that I can take into the kitchen and wash. The shelf, even with the top bolts tight, does not hang level, but a couple of cedar shims corrected this.



Overall Impressions

All in all, I give this a Bubba Tim's Thumbs up and recommend this table. The table is easy to clean, maintain, and a joy to cook on. The SS egg table is very durable and solidly built. The table can be purchased online or through your local Big Green Egg dealer.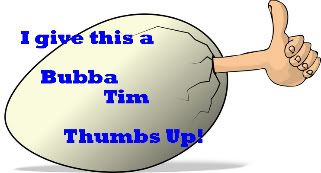 .