Bubba's Burnt Offerings Award
Even the best Chefs and Pitmasters make some mistakes from time to time. Some by trying new things and others just gettings side tracked and forgetting that something was cooking. Like that has never happened to you? Right! This was inspired by Maineggs cook below and my own burnt silicon offering. Oh well, Life happens!
So in the finest Bubba Tim tradition of having fun, I proudly present: The Bubba's Burnt Offerings.

Three simple rules:
1st:
MUST be self nominated
2nd:
You must have over 500 posts.
(This is to show that even Gold eggers, from time to time, ruin their cooks. It is meant to show newby eggers that no-egger has perfect cooks all the time and for them to keep on eggin!)
3rd:
It is all in good clean fun!
(we can use some more smiles these days. The world is filled with too much bad news.)
This is a true story how Bubba Tim cooked silicon on the Egg as copied from the egghead forum:
Little Chef is going to have my asteroids. The day started off fine. I started the prep for the Zippylip inspired Bubba Cakes and Bubba Bites.

Mixed up 2/3 ground beef, 1/3 ground pork, Taco seasoning, 1 egg, and panko bread crumbs into a bowl and gently mixed.
Next: cut the jalapenos into slices and some into a small dice. Took the seeds and veins out of the slices then stuffed them with cream cheese.
Filled the bottom of a silicon muffin mold the the "meat" mix and push down a pepper cheese plug for the Bubba Cakes
Some I topped with bacon, others with hard salami. Some are stuffed with a "plug" some, diced onions and jalapenos. Some of the Bites were down upside down. Put the dice mixture in first then the meat mix. Here they are before going on the egg.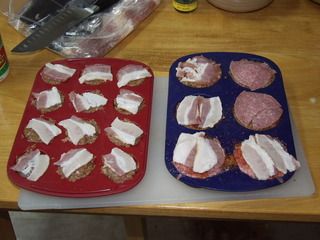 Now for the Dog House part: I put a little too much apple chips on for smoke and was afraid that the creations would taste too smokey. So I opened the dome and open the bottom vent to burn off the chips.
Well that should take about 10 minutes. Being a good Bubba and not wanting Little Chef knowing what I did to her kitchen, I started to clean up. 45 minutes later I looked at my watch and thought the bites should be ready about now. As I went out the door I just remembered that the dome was up and the bottom vent was wide open. Did you know silicon melts at 900 degrees? I do.



I sure hope Bed Bath & Beyond has those in stock. If not, I will be sleeping on Zippy's couch.
First off, Thanks one and all for your feed back and words of wit. Yes, I even learned that Harley gloves don't work in high temps.
Interesting things happen to that silicon baking molds. You would think it will melt. It kind of does, but it turns to powder when you touch it.

So after 4 hours all closed up in the egg, I can start the clean up. Good news, the dome was up so all the fumes escaped into the air and my plate setter now is really clean! Looking into the fire box it was discovered that there was pieces of blue silicon mixed in the lump.


Rut Row. This could be bad JuJu. Yep, sure enough, all that new lump was contaminated and must be thrown away. So I grabbed the old RO bag and started to fill. I got most of it out and grabbed the shop vac.

There was flakes of blue everywhere. Took some foil and did a good job cleaning the sides and dome. Put it all back together and filled it up with fresh lump. Wait! what is that smell? Smells like...like burning paper. Ahh crap! the RO bag is burning. So I do the Man thing and run and grab a hose to put the fire out. Hey, this is cool. The bag is filling up with water and the coals are now out. Hey wait, what is this black crap coming out of the bag? Chit, the bag is leaking black lump water. No problemo, I will just move it to the grass. That was close. Ok, back to the egg. Got the lump lit but I still smell this smell. Now it smells more like plastic. Chit! The shop vac! Run, grab hose, squirt water, problem solved. Phone rings, Chef buddy is on his way to put the Beef ribs on the egg. Better move the bag of RO to the trash. Did you know that paper gets soggy when it gets wet? Yep, the freakin bag broke.

SCREW IT! I AM STARTING EARLY!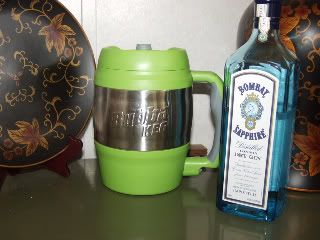 and I just got a call from LC, she is having a really bad day also. I didn't tell her yet. No need to throw gas on a fire...




Mainegg 7/06/2009
for her burnt offering of:
"Spuds"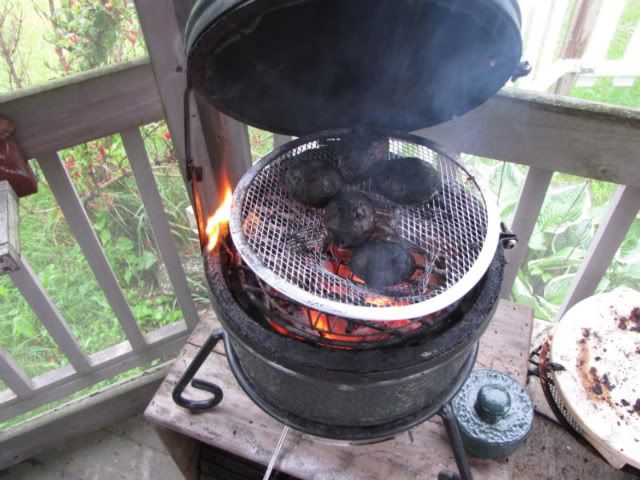 "inferno mini" is what you get when you light it and get it hot and put on your potatoes and then go look at new baby pics your son sent you and forget all about your poor baby mini that you did not even adjust the daisy wheel you were so excited to see if the pics had down loaded yet I bet my gasket will not open this morning LOL
I melted more than my gasket....
Stike 7/19/2009 for his
"rot dog"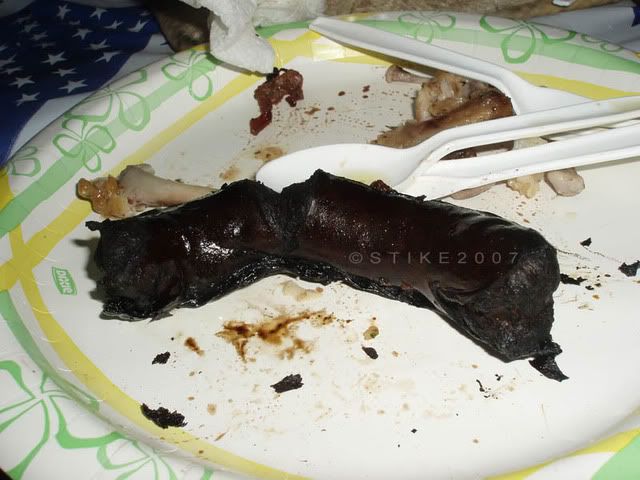 Pork Butt Mike 7/19/2009 for his
"Award winning chicken"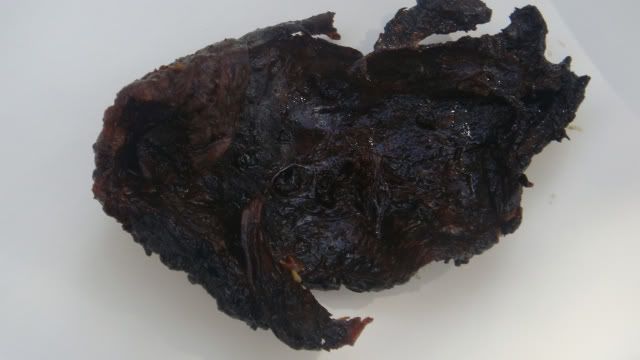 Mickey 5/30/2011
Opps Chicken Wings




Florida Grillin Girl
03/23/2011
Varpoized Mussels and Pan




Loco-Engr
ABTs?





Mickey 2nd Award
4/01/2012
Spatchcock Chicken





Grampa's Grub
4/01/2012
1100 deg Spatchcock Chicken